KANDINSKY'S DULCIMER POSTER

For mailing in the US, shipping is included

This poster fits into standard 11 x 17 frames.

Print-on-demand posters can take up to 2 weeks to arrive, depending on your location.

If you live outside of the US and would like to purchase a Kandinsky poster, please contact us using the email form at the bottom of this page.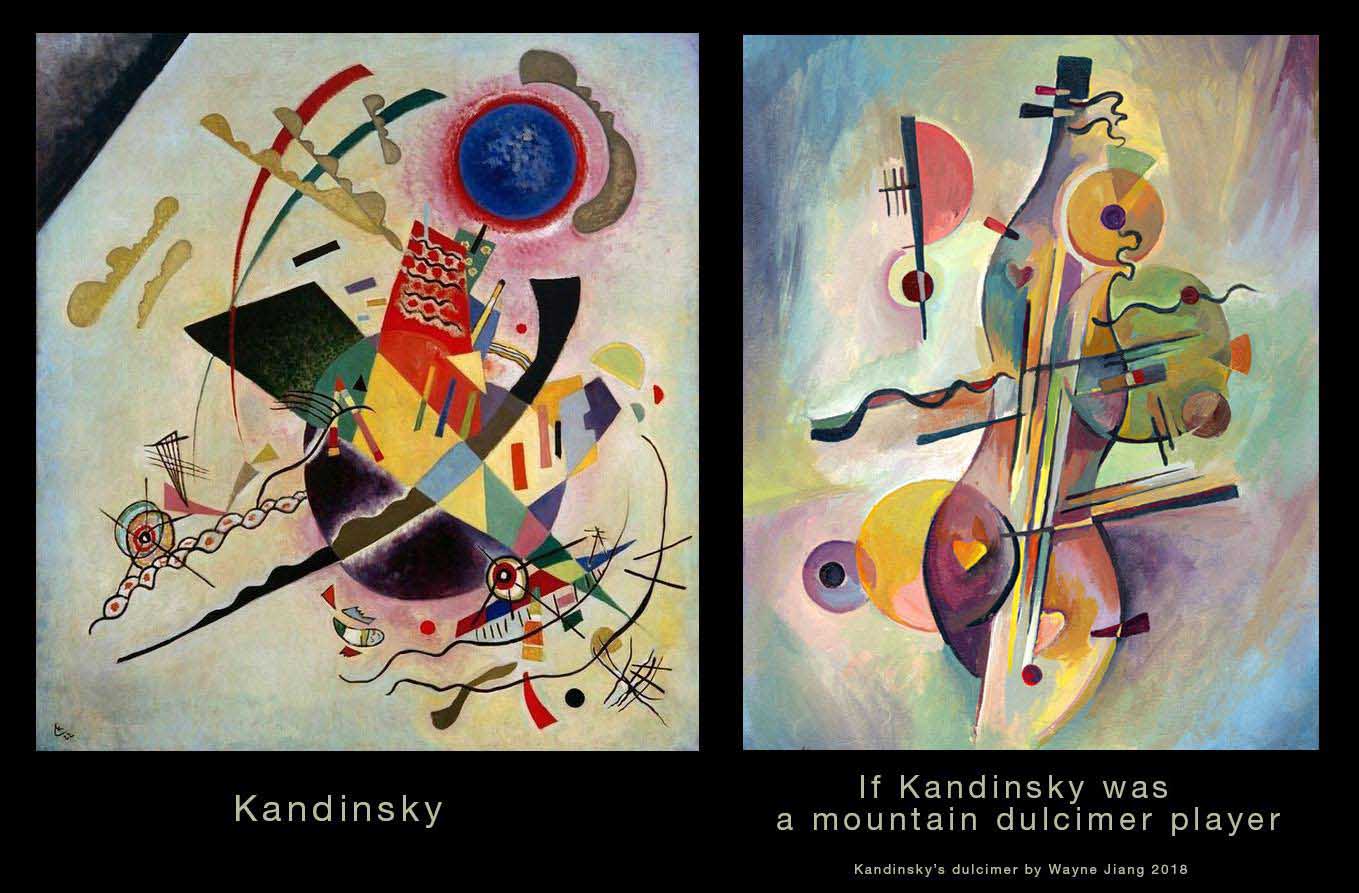 Kandinsky's Dulcimer is based on the modern abstract artist Wassily Kandinsky. This artwork imagines what Kandinsky would have painted if he was a mountain dulcimer player. Original painting by Wayne Jiang. This artwork was designed for all you sophisticated mountain dulcimer players and aficionados.
THE KANDINSKY'S DULCIMER PRINT-ON-DEMAND T-SHIRT

$22 each
plus $5 standard shipping in the US

A dulcimer painting in the style of the early 20th Century abstract painter Wassily Kandinsky.

Print-on-demand t-shirts can take up to 2 weeks to arrive, depending on your location. Ready-to-ship t-shirts usually arrive between 5 to 10 days. Both shirts are 100% cotton with unisex sizing.
Color Choices for The Kandinsky Dulcimer t-shirt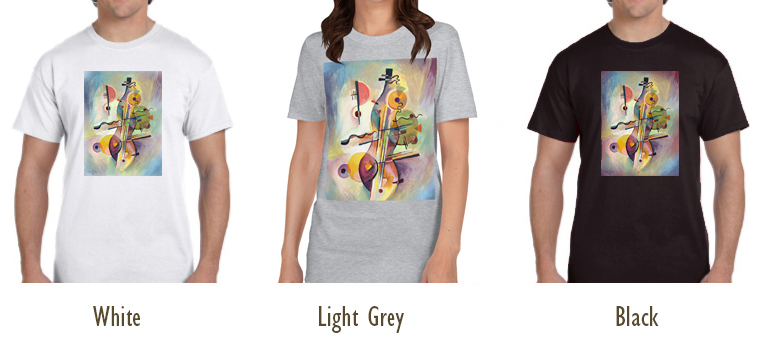 PRESERVE DULCIMER DIVERSITY PRINT-ON-DEMAND T-SHIRT

"Preserve Dulcimer Diversity" is not just a slogan, it's one of the driving philosophies behind what we do as podcasters and filmmakers.

Print-on-demand t-shirts can take up to 2 weeks to arrive, depending on your location. Ready-to-ship t-shirts usually arrive between 5 to 10 days. Both shirts are 100% cotton with unisex sizing.
HEARTS OF THE DULCIMER PODCAST READY-TO-SHIP T-SHIRT
DVD PURCHASE FOR INDIVIDUAL VIEWING ONLY
The DVD is for private home viewing only, not public screenings. For information on public screening licenses, see below.
If your country shows $0 for shipping and handling, please DO NOT submit your order until you contact us.
If you would like to order 6 or more DVDs, please contact us for discount information.
If you made an error, please contact us immediately. No full refund after the DVD has shipped.

PayPal also accepts credit cards.
Shipping to one address per order.

PUBLIC OR EDUCATIONAL SCREENING LICENSES
With a public screening license, you can host a free, donation based admissions, or ticketed public screening of the film. Community screenings can take place at fundraising events, group gatherings, and ongoing series for nonprofits, theaters, farms, churches, community organizations and more.
Cost is determined on an individual basis by audience size and venue.

If you would like to hold a screening in a school or any public venue, contact us.

WHAT'S ON THE DVD
Main feature: Hearts of the Dulcimer (NTSC -- ALL REGIONS)

Hearts of the Dulcimer is a feature-length documentary film about the mountain dulcimer boom in the 1970s in California and its lasting impact. Through colorful interviews, rare archival footage, and live performances, Hearts of the Dulcimer gives a firsthand account of living life in the counterculture, following one's passion, and playing and building mountain dulcimers.

In the late 1960s, the dulcimer made its way to California. Embodying the California spirit of innovation, an itinerant group of dedicated dulcimer enthusiasts created new traditions in both building and playing. Remaining true to the dulcimer's rustic origins and do-it-yourself tradition, they found their own self-expression through the instrument. Over four decades, they went on a passionate journey with the dulcimer.



Musical performance or commentary by:
Michael Rugg, Howard Rugg, Joellen Lapidus, Neal Hellman, Lucy Long, Robert Force, Aaron O'Rourke, Janet Herman, Laura Devine Burnett, Jean Ritchie, Joni Mitchell, Bonnie Carol, Albert d'Ossché, Paul Furnas, Stephen Jackel, Steve Palazzo, Ron Beardslee, and many others.
(approx. 55 minutes)
Over 40 minutes of bonus features:
McSpadden Dulcimers
Meet some of the folks behind the famous McSpadden Dulcimer Shoppe in Mountain View, Arkansas. Through their unique ensemble playing, hear how the dulcimer changed their lives. With Jim Woods, Judy Klinkhammer, and Jack and Mary Giger.
A California Middle School Dulcimer Program
A California middle school incorporates dulcimer building and playing into the school's curriculum. Behind this unusual school project, students are learning woodworking, algebra, music, history, and art through building and playing dulcimers. With Andrew and Peter Eldredge, Ferenc Dobronyi, and MP&MS students.
The Chinchillas
A California-based dulcimer trio show off their unique dulcimer playing with traditional and original tunes on acoustic and electric dulcimers. They have played together since the 1970s and formed a family around the mountain dulcimer. With Cal and Cindy Gravatt, and Cathy Traut-Hessom.
A Dulcimer Love Story
Colorado dulcimer builders and players Bonnie Carol and Max Krimmel talk about how they met and fell in love over the dulcimer.
California Style Dulcimers
Find out how Richard Fariña and the California Renaissance Faires inspired the Ruggs to create big-body dulcimers. With Howard and Michael Rugg, Steve Palazzo, Ron Beardslee, Laura Devine Burnett and Bob Burnett.
From Dulcimer to Ukulele
Tony Graziano, a well-known ukulele builder in Santa Cruz, California talks about his beginnings in instrument building with the dulcimer.
About the Filmmakers
Find out why Patricia Delich and Wayne Jiang decided to make Hearts of the Dulcimer.